2016 hotel and tourism trends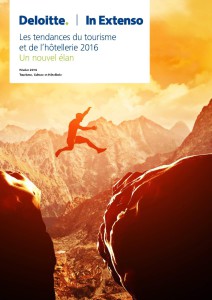 Each year, In Extenso Tourisme, Culture & Hôtellerie publishes a study covering the major industry trends. This 60-page document also provides a detailed analysis of the French hotel industry's annual performance.
The 2016 edition :
Statistics
Sensations, trends and evolutions in the restaurant industry
 doggedly digital transformation… responding to the explosion of the collaborative economy
Sustainable development: a sense of hospitality!
Hospitality and young talent: the keys for a lasting marriage
Financing hospitality projects through crowdfunding: is this possible?
The bricks & mortar and goodwill – what is best structure for a hotel investment?
Litigations and disputes: quantifying damages
Culture: a major driver of tourism appeal
Culture and innovation: metropoles as territories for creativity
Please fill out the following form to receive your free copy by email.
modal