A more challenging than expected summer season
HOTEL INDUSTRY PERFORMANCES – AUGUST
 2016
Hotel performances for August in Paris and, as feared, on the Côte d'Azur dragged down the results for the industry as a whole, in spite of the encouraging performances recorded in Regional France and in Coastal areas. Altogether, RevPAR fell in all categories, except in the Super-budget segment. The Upscale and Luxury categories were the most affected over the two summer months.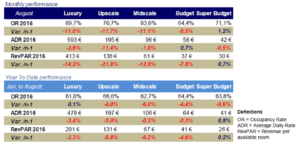 August proved complicated, even catastrophic for a good proportion of hoteliers in Ile-de-France. The anticipative aggressive pricing strategies implemented by certain operators had no impact. The combined fall in demand and average rates dragged down RevPAR at a rate seldom seen before. 
The information collected in this form is recorded in an electronic file by In Extenso Tourisme, Culture et Hôtellerie, 63 ter avenue Edouard Vaillant, 92517 Boulogne Billancourt, to manage your information requests / subscriptions to our newsletter, and events organized by In Extenso Tourisme, Culture et Hôtellerie.
All questions with an asterisk are obligatory.
You may at any time access, rectify, or erase your personal data, or file a data portability request. You also have the right to limit and object to the processing of your personal data. You can exercise all these rights by completing this
form
. We remind you that you can also cancel at any time your subscription to our newsletters or reviews and opt out of events.
For more information concerning the measures undertaken by In Extenso Tourisme, Culture et Hôtellerie, to protect your personal data, we invite you to consult our
personal data protection policy
.
modal