No Indian summer for French hotels
HOTEL INDUSTRY PERFORMANCES – SEPTEMBER
 2016
September saw a decline in occupancy and average rates for all categories, with all major areas in France affected. Ile-de-France, the Côte d'Azur, and even Regional France,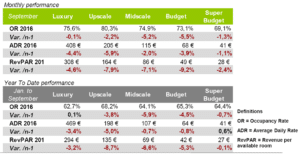 recorded lower RevPAR in all segments, with the exception of Luxury. However, given the solid performances recorded since early 2016, year-to-date results for Regional France are still up on last year's performances. Yet given the underlying trend, certain hoteliers have been forced to scale down their Q4 forecasts. 
The information collected in this form is recorded in an electronic file by In Extenso Tourisme, Culture et Hôtellerie, 63 ter avenue Edouard Vaillant, 92517 Boulogne Billancourt, to manage your information requests / subscriptions to our newsletter, and events organized by In Extenso Tourisme, Culture et Hôtellerie.
All questions with an asterisk are obligatory.
You may at any time access, rectify, or erase your personal data, or file a data portability request. You also have the right to limit and object to the processing of your personal data. You can exercise all these rights by completing this
form
. We remind you that you can also cancel at any time your subscription to our newsletters or reviews and opt out of events.
For more information concerning the measures undertaken by In Extenso Tourisme, Culture et Hôtellerie, to protect your personal data, we invite you to consult our
personal data protection policy
.
modal